There's no sugarcoating it. We're in the midst of an unprecedented disruption to work. In the span of the last week, the western economy has come to a grinding halt. Schools are closed. Restaurants and bars are shuttered. And the rest isn't far behind. 
We've never faced something quite like the coronavirus and its potentially devastating impact on millions of people. One need only look at China or Italy to see just how bad it can get, and so businesses around the globe are settling in for the long haul – weeks or potentially months of remote work. 
For businesses that have no remote work plan, or that have never envisioned the scope of what we're currently dealing with, we've collected a series of resources to help. Below are some of the most effective resources, tools, and insights we've encountered in the last week. 
Business Continuity Planning Checklist
Leveraging valuable resources from world governments, we've prepared a checklist of what your business should be doing during the COVID-19 outbreak to prepare. 
In the document, you'll find examples of business issues you may need to address, how to measure and manage continuity in your business, and what you should do to address specific COVID-19 risks.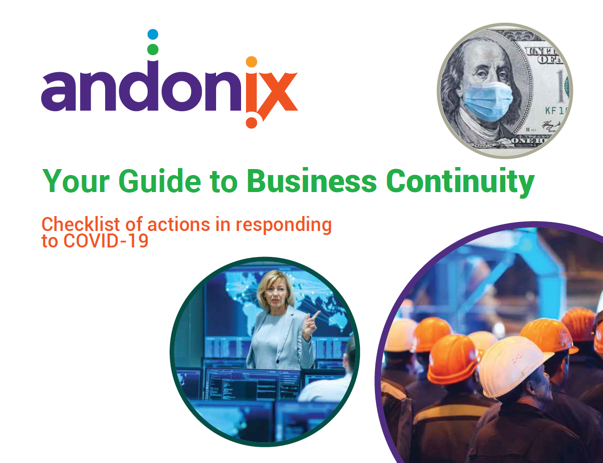 The Foundations for Remote Work 
For remote work to be a feasible alternative to the office, it's important to have a foundation in place that supports it. You'll need both systems of record to gather and organize work, and systems of engagement to keep your workforce actively communicating with one another. 
Recording Work Effectively 
To accurately record work and ensure you and your team are always on the same page, you'll need:
Productivity apps that keep people focused and engaged. Not everyone is cut out for working at home. It's difficult to stay focused when there is a TV and couch a few feet away, children running around downstairs, and often no single comfortable place to work. With the regular schedule disrupted and constant distractions, it's important to help employees implement productivity systems that will keep them on track. Apps like Todoist or Wunderlist can make a huge difference for those who don't normally have a to-do list application. 

CMS. Are you actively capturing all customer data in a central database? If you're using spreadsheets or paper, remote work is going to be that much more difficult. Now is the time to work through the growing pains of having everyone equally contribute to a shared database. 

Mobile Applications – When choosing software, make sure it is fully mobile and supports both iOS and Android devices. 
At the same time, you also need systems of engagement to help people stay focused, feel like part of a team, and keep their efforts organized. 
Email. Encourage your staff to communicate constantly with one another, providing key updates even when they otherwise might not do so. Working out loud can keep everyone in the loop. When you don't see each other, there's no such thing as too much communication. 

Conferencing and Team Chat. Meetings can continue with web conferencing software. Depending on the ability of employees to find a quiet space, you should be able to stay in touch with one another throughout the workday. 

Have fun. It's easy to become even more work-oriented when at home all day. Work is work and people just want to be done with it so they can address the household issues surrounding them. But don't neglect the importance of the routine watercooler conversations you'd have at work. Whether it's a few minutes before a call starts to vent, or a thread on Slack to talk about what everyone is watching on Netflix, stay grounded. 
Essential Remote Work Tools
Whether you've dabbled in remote work solutions for your employees in the past or are tackling it for the first time, there are dozens of tools you can leverage almost immediately to keep people engaged. Since 2005, remote work has grown by nearly 200%, with more than 4 million US workers working remotely at least part of the time each week. Upwork recently did a survey in which managers expected 38% of their full-time staff to be working remotely in the next decade.
We're well past that number right now, so it's good that the tools to support such a move have become ubiquitous, with easy access on almost any device you own. Some of the must-haves include:
Virtual Conference Calls
It will be a long time before those meeting rooms get put to use again. So, it's time to go virtual. There are dozens of tools, many of them offering free or low-cost options for small businesses. Some of the most high profile include:
Zoom is one of the most successful, and accessible virtual meeting solutions on the market right now. Personal meeting links are free and can support up to 100 participants for up to 40 minutes. Small team options cost $15/month per host and include dozens more features, as well as recording and scheduling tools. 
Microsoft Teams is a tool in Office 365 Business, and scales in features depending on the plan you have. Meeting and call functionality is available at the E3 level, but you can get basic chat and collaboration features for free with the a la carte Teams product. 
Google Hangouts is a free service that can be automatically integrated with a Google Calendar. If you use Google Apps for Business, this feature is already unlocked. Send a calendar invite and it will include a link to a Hangout with video and voice chat. 
Skype is one of the oldest virtual chat tools on the market. Also owned by Microsoft, Skype allows free calling and video chat to anyone in the world. It's primarily designed as a personal-use product, but has a business plan, and is a good free solution for small businesses with limited resources. 
File Sharing 
If you're used to crowding around a projector in a meeting room to walk through a new plan on someone's laptop, virtual meeting tools can be a useful resource, but you also need a simple way to share and collaborate on files. Many smaller businesses take an ad hoc approach to file sharing management with individual users owning accounts. All of the below offer organizational features to manage not only sharing but access levels and support features at an administrative level.
Dropbox is a shared file system that allows you to virtually manage folders, synchronize between distributed teams and leave comments on files accordingly. It keeps track of changes to ensure nothing is lost and offers a free trial for small teams making the shift to remote work. 
Most users have a free Google Drive account, but you can better organize and manage access with a G Suite account. This allows you to lock access to all users outside your organization, control access levels for individual file types, and integrate Drive with other google apps more seamlessly. 
Microsoft's cloud Office product integrates with the desktop apps you already use, allowing you to quickly share files to the cloud, through the Teams communication tools, and more. Similar to Google Drive, it allows for web-based editing of files to collaborate on updates as well. 
Connected Worker Tools
Meetings are important, but if you've never worked remotely, you won't realize just how often you get up and walk to someone else's desk to ask a question or check on something real quick. Connected worker tools fill a vital gap here, keeping your entire workforce connected across all device types. 
Slack is the highest-profile worker communication tool for office workers and programmers. It's the ideal solution for white-collar workers who find themselves in a new remote work situation.
Smart Work Station by Andonix offers a connected worker platform designed for frontline workers who don't have email addresses or dedicated desks. Easily establish bi-directional communication between front line workers and staff to share information in real-time, create mini-apps to guide workers step-by-step and capture data in real-time. It fully integrates with training and cross-training resources to ensure everyone has immediate access to all the information needed to do their jobs properly and features a Digital Andon Cord for communication automation.